Sponsored By
Contributors
Below are readers who have donated to me as a thank you token. If you feel that my post are worth reading, please donate to me at any amount. Thank you.
Link to me
Book i read.
Stats
Wednesday, March 08, 2006
MIT organized origami competition..and the winner is.....
Brian Chan, a graduate student in mechanical engineering won the first prize for his beaver creation. The winning entries from the fourth annual juried Student Origami Competition are on view at the Wiesner Student Art Gallery on the second floor of the Stratton Student Center, through March 15.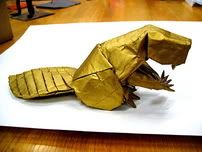 For me, the best origami is from Jason Ku with his Nazgul from "The Lord Of The Ring". The only origami i can make is a ship and the paper plane. Ermm...i don't know if the ship and the paper plane falls under origami category. Oh well, the best origami i can make is a paper that looks like a rubbish...wait a sec, it is rubbish. Blahh..
posted by Jamloceng @ 1:46 PM