Sponsored By
Contributors
Below are readers who have donated to me as a thank you token. If you feel that my post are worth reading, please donate to me at any amount. Thank you.
Link to me
Book i read.
Stats
Wednesday, January 04, 2006
I need to quit smoking...FAST!
After reading my post about tobacco, maybe i need some motivation to stop smoking or at least reduce it.

Looking at the picture gave me scarry feeling. I need to stop smoking.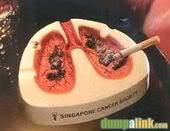 posted by Jamloceng @ 3:00 PM