Sponsored By
Contributors
Below are readers who have donated to me as a thank you token. If you feel that my post are worth reading, please donate to me at any amount. Thank you.
Link to me
Book i read.
Stats
Tuesday, August 30, 2005
Islamic link
For those who wanted to know about Islam, you can get free eBooks, movies and video from these site. You can download the Quranic Recitation of the Holy Al-Quran. Today i'm going to introduce to you CeramahIslam.com and HarunYahya.com.

For CeramahIslam, most of the contents are in Bahasa Melayu. For those who can read and understand Malay, feel free to visit this great site. So many mp3 to download ( some in English ) and you can keep it for free. For those who loves live feed, you can always click their video link. In this site contains series of lecture regarding Islamic Healing and Medicine. Not just that, lectures on human relationship, ibadah and much more. Lectures were given by top Islamic Scholars from Malaysia, Singapore and others. Lecture also comes in English, Tamil and Arab. Feel free to visit this site. For my none-Muslim readers, maybe you too can visit.

HarunYahya.com is another great Islamic site solely in English. If you are looking for books and videos, this is the place. Everything is free to keep. HarunYahya is a well-known Islamic scholar and has been giving free eBooks to all of his visitors to his site. His site is easy to navigate so you might want to check out all his contents regarding Islam. eBooks are given free together with great online video streaming for those who wanted a clearer view about Islam.

Ahmed Deedat needs no introduction. He has been on national TV's from varies countries giving lecture not just to the Muslim but also to our none-Muslim friends. Sadly Ahmed Deedat passed on to meet his Creator on the 8th of August 2005. His biggest work was the debate between him and Brother Jimmy Swaggar.

The reason i wrote about Muslim and Islam is because the prejudice among the none-Muslim friends since the 9/11. I strongly against terroristism and all true Muslims are on the track of thought as i am. Islam is a peaceful religion and we do love our none-Muslim friends. Besides, we share the same great-grandfather; Adam. Terrorist doesn't have a religion it was the act of lost human being. Yes i do admit there's plentty of bad Muslim out there but that is not good. Same goes for any other religion in this world. Now is the time to unite. Bring peace to the world. There's nothing wrong sharing a space in your heart for your friends.
posted by Jamloceng @ 6:21 PM


Burning my own bridge


Yup, above is Malaysian flag. On 31th August is our independent's day. Merdeka! Merdeka! Merdeka! I'm looking forward to watch the fireworks display tonight. It's gonna be great. I'm a proud Malaysian living in a beatiful country. Talk about being proud, i just got an offline YM from a dear friend of mine.



Is it true having your own hosting and domain makes you look cool? His brother keep bragging about his own hosting and domain and how it is great to get alot of traffic. For me, having your own hosting and domain for your blog is just as same as i'm using Blogspot. And yes, i do run my own server at home but what's wrong having my journal here?

For your infomation, i've been online for almost 11 years now and i have couples of my own site. Don't you think this is odd a guy with blog on a free space? Nope...not at all. Having your own hosting and domain not gonna guarantee you a jack. So, talk my hands will ya. To be honest, there's no "fool-prove" in the internet. There's no guarantee you gonna make big unless you were among the pioneers of the internet. I've heard many people making good income from a free hosting and i'm sure you've heard many "i-own-my-own-hosting" going straight to the drain.

So, what's the catch? Can we blame the host? Can we blame the free-host? This talk has been debated for years and nobody can spill out the concrete answer. Yes i know free-hosting limited your site but can that be the main reason? Free-hosting doesn't allow any fancy "PHP-java-thingy", but again, is that the main reason?

All the best to those who talk big...and for me, i'm burning my own bridge. There's no turning back and i'm happy with my free-space. Yup, talk is cheap but not as cheap as my free-space. LOL. Selamat Hari Merdeka semoga minda kita merdeka daripada kongkongan yang kita bina sendiri. Can't wait for the fireworks display tonight.



MERDEKA!
posted by Jamloceng @ 5:32 PM


Blues Guitar Solo
Do you love blues? For me blues is the root for modern rock and to capture the mood of the blues is not easy. Just like what Jimi Hendrix said "It is not hard to play blues but it is hard to feel it".


As i'm typing this post, i'm listening to Jag playing the 1920's blues solo. He got a really nice lick and feel to the blues. So who is Jag? Below is his bio in his own words:

I started playing rock guitar in 1978. OK, I banged on it a few times in 1976 but that doesn't count. I started playing in a cover band in Little Rock while still in high school. You know the story; Zep, Who, Stones, Skynyrd, etc. I did that for a few years then started to teach guitar while in college. I opened up my own recording studio in 1984 (still in business) and recorded about 40 90 minute cassettes of my own music over the next 20+ years. This was more experimental/rock/imporovisation music in the vein of old Pink Floyd or Captain Beeheart.

I got into blues after discovering Robert Johnson and RL Burnside in 1998. I had heard lots of blues over the years but the only artist I really liked was Stevie Ray Vaughan. My music sounds nothing like him however. I had put down my guitar for a few years after getting hooked on computers. I only played sporadically but I noticed that I was abscent mindedly playing old blues riffs.

I remembered that I had the Robert Johnson box set from the 30's and I started listening to it, not really intending to learn that style. A co-worker at the time was listening to internet radio and one fo the stations played lots of old blues artists like Son House, Mississippi Fred McDowell and of coure Robert Johnson. I was immediately hooked on the raw, funky style and investigated further.



Related Reading





To get his album, point to this great website. They support the artist by giving away the full album so you can listen to it before you buy. For a free full album of Jag, click here to play it with WinAmp.

Usefull Link

Guitar Link

Stevie Ray Vaughan
posted by Jamloceng @ 1:38 PM


Cheap Music
Our local music scene sucks. Woohaaa....strong statement dude. Nah...that's the truth. For a CD gonna fork out RM40++ and for me that is too much. Then come the recording companies saying that we don't support the local music scene. Duh...it's our money and don't blame us for downloading mp3's.

Once i read an article about piracy in our country. This guy said that the current price is the cheapest in the world. Yeah...like i care about that. Cheap? RM40++ you call it cheap? For me, talk is cheap man. For an average Joe, RM40++ is big. I can buy food for my family and pay some bills. That guy has no right to say bad things about us. Give us a lower price ( below RM25 ) and we are more than happy to support our local scene.

Then comes the "one-hit-single" in the album. Is it worth to buy an album with one good music? No, we just download it. Cheaper and we can burn it at our own will. I'm not supporting pirates copies but again, the big question is " Is it worth buying an album?". In my honest opinion, i dare all recording company to copy the kedai runcit system. You know, if we hate the product, we can get back our money.

One insane person that got ball is Afdlin Shauki. This "kodok" is brave enough to let the buyer to pay at what amount they want. So, you got ball? Show them to us, not tomorrow...not next year but now. Afdlin needs no introduction and for me his music is "out of this world". The reason he got balls is because, he is "one" of us.

Get his album at.....errr you name the price. But please,support his music if you really love his work. Support his Hilang Akal campaign. Afdlin, if you're reading this, my support is yours.
posted by Jamloceng @ 11:33 AM


Monday, August 29, 2005
White teeth anyone?
"Your teeth is so white and bright, how do you do that?". Ever heard that quote? Read the tips below to get that "pearly-white" smile.

1. Ask your dentist if you're a good candidate for whitening, since results can vary. Yellowed teeth generally lighten well; darkened grayish or brownish teeth may not.

2. Try over-the-counter products, which have low concentrations of hydrogen peroxide. A dental tray and gel kit can be used for a short time each day to lighten teeth one to two shades in two weeks, at best. Whitening strips cover the six front teeth--which must be even--for similar results, and keep peroxide on teeth and off gums. Paint-on gels get similar results and cover more teeth, but can be messy to use. Hydrogen peroxide works faster than carbamide (see Step 3), but takes longer to get results and deactivates faster. These are the least-expensive treatments to use when staining reoccurs due to beverages and smoking.

3. Use a dentist-made tray at home twice daily for an hour for a couple of weeks, or wear it overnight. The gel's active ingredient is 10, 15 or 20 percent carbamide peroxide, which is gentler than hydrogen peroxide. Teeth could lighten several shades depending on the strength of the gel used. Higher percentages work faster but also increase the chance of teeth sensitivity. Ask your dentist for whitening products that include fluoride to reduce sensitivity. Cost: $300 to $450.

4. Whiten your teeth by up to 10 shades in one 60- to 90-minute session with a potent, light-activated bleaching formula of 35 percent hydrogen peroxide. Cost: $500 to $1,100.

5. Consider porcelain veneers or bonding if you have conditions where bleaching isn't effective, such as tetracycline or intrinsic staining. Bonding is a resin that's contoured over teeth. Veneers are thin porcelain manufactured in a laboratory. Cost: $500 to $1,500 per tooth for porcelain veneers, $150 to $300 for bonding.

6. Keep in mind that two to three weeks of whitening by over-the-counter products equals one week of overnight tray treatment from the dentist--and may well equal one hour of the light-activated treatments.

Related Reading for Children





posted by Jamloceng @ 6:53 PM


Online millionaire Book
Irfan Khairi is our local boy that made millions from internet bussiness. He just published his own "how-to" book. This is my honest comment and not intended to "flush" his creadibility at any level.

After reading his book titled "Rahsia Jutawan-jutawan Internet Terbongkar" ( Internet Millionaires Reveled ), to be honest, most of the info in his book can be obtained free from the internet. Just Googled the keywords ( you figure it out ), zillions of tips on how to make your own "start-up" online bussiness will popup.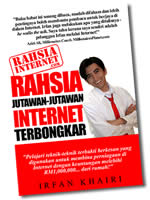 This book is for newbies and should not be read by advance netprenuer. With wide range of infos you can tap in, this book is great to understand the basic of internet bussiness. Starting with on how to pick a hosting right up to setting your merchant account. With simple and easy to understand style, you can simply "copy" his module and walla, your first online bussiness website.

By reading his book, you won't go far tho. You must go to his seminars for the "details". Maybe this is his marketing strategy to make more money. But hey,there's nothing wrong with that but i was hoping his book go into the details more.Again, i must stated that his book for newbies only. To attend his workshop, you must pay $179 ( RM690 ) and hope there's gonna be a hand full of "door-gift" for that amount of fee.

If you really serious about learning how the pro's make money from the internet, the you should try this link. A provent module that helped many people to understand the details to start an online bussiness. The easiest way to start your bizz is by reading the tips in this site. With "on-hand" help, you can't missed the money on the table. Using more modern approach, they will give you a complete DVD's, softwares and books regarding online bizz. Their insane offers only for the seriously insane "headhunters of the web".

Another insane method to get those "money-on-the-table" is by using Google. Yup, you read it right...using Google. I'm talking about Google Adsense. The man that made "insane" income is Joel Comm. He made almost $25,000 per month using Google Adsense. To read more about on how Joel made that much, point your browser here.

Related books



Related Link

Cheap Bussiness Webhosting.

posted by Jamloceng @ 6:28 PM


Motivation Books
Do you like to read books? I know i am. I'll make sure i will buy two books per month. Not all my books about motivation but varies from time to time. I just bought a great book by Jack Welch titled Straight From The Guts. This book is about leadership and this is the man who can talk about leadership and motivational matter. Who is Jack Welch? Keep on reading.

During his 21-year tenure as chairman and chief executive of General Electric, Jack Welch redefined business culture in America and across the globe. Today, Welch epigrams like "Fix, sell, or close" are part of our everyday vocabulary; Welch initiatives like Six Sigma have enabled many organizations to meet the demands of a highly competitive marketplace; and Welch disciples hold leadership positions throughout the Fortune 500. In Jack: Straight from the Gut, the first book ever written by GE's legendary CEO, you'll find out how a chemical engineer impatient with bureaucracy took a solidly prosperous company and remade it into an extremely profitable, aggressive, value-oriented business that serves as a model for executives from New York to New Delhi.


Another book that i read over and over is from Dale Carnegie titled "How To Win Friends and Influence People". Originally published in 1936, this is the architect of the pratical human relations and motivation handbook. Carnegie opens with fundamental techniques for dealing with people, such as refraning from criticism and expressing sincere appreaciation. Motivating the readers with "in-depth" stories on how to keep the "fire" burning from within. A great book for students, bussinessman and to be honest, for all levels.

Sigmund Freud is another author that i love. Freud was considered as the Father of Modern Psychiatrist. Freud worked closely with Karl Jung. Freud was born in Frieberg, Moravia in 1856 and grew up in Vienna,Austria and became a doctor of psychiatry. Early in his career he was interested in hypnosis as a cure for hysteria, believing that the symptoms were directly related to repressed psychological trauma. He started the practice of "free association," an effort to reveal unconscious emotions, and increasingly emphasized sexual development as the basis for psychological tension. Freud worked briefly with Carl Jung, was a professor in Vienna and co-founded the Vienna Psychoanalytical Society and the International Psychoanalytic Association. In 1938 he left Austria for England to escape Hitler's government. Freud battled mouth cancer the last several years of his life, but continued to smoke cigars, his trademark. His work on human thinking pattern and on how to use the power of the mind to motivate human is a worldknown. Another "a must" book for your reading pleasure.



Who can forget Dr. H.M Tuah, our own local top motivator. His book titled "Membina Imaginasi Cemerlang" ( Building a Great Imagination ) told us,the readers about the power of the subconsious mind. He puts it in simple language to make sure the readers can catch up. "Simple yet powerful" is how i describe his book. Another great book on how to understand the human mind. His book is so hot, people even lined-up early in the morning to
get it. If you are too lazy to read ( i hope not ), you can always get his motivational CD's from his official site.




His latest book is selling like a hot cake. Get it while the stock lasts. "Jangan Tidak Tidak" is now in your nearest bookstore.

posted by Jamloceng @ 5:51 PM


Spin that docotrs
I love to jam rock tunes and this band was on the list. The band is Spin Doctors. Their first album for me was and still phenomenal. They play rock with jazzy-kinda swings. My old-time fav is Little Miss Can't Be Wrong and Two Princess along with Jimmy Olsen's Blues.





The Spin Doctors are a jam band, best known for their 1992 hits, "Two Princes" and "Little Miss Can't Be Wrong". The album, Pocket Full of Kryptonite, sold poorly until MTV and radio began playing the songs.Turn It Upside Down (1994) was relatively unsuccessful, though the second single, "You Let Your Heart Go Too Fast", sold well. The follow-up, You've Got to Believe in Something (1996), sold poorly and the band lost their record contract, eventually signing to Uptown/Universal and released Here Comes

the Bride in 1999.

Finally in 2004, the Spin Doctors reunited and recorded a new album, entitled Nice Talking to Me that is expected for release sometime in September 2005. So, get that Doctors spinning in your CD player. And yes, we still jam the same songs from Spin Doctors and still the "magic" is still there.



On the technical side, as a drummer, i must say that Aaron Comess (drums) is one heck of a drummer. His wrist strokes are amazing and talk about the patterns..phew...it was hard to follow. If you're into home studio kinda guy, Spin Doctors can really improve your skills.

Discography
Up for Grabs...Live (1991)
Pocket Full of Kryptonite (1991)
Homebelly Groove...Live (1992)
Turn It Upside Down (1994)
You've Got to Believe in Something (1996)
Here Comes the Bride (1999)
Nice Talking to Me (2005)

External Links
Official Site
Live Music Archive
Spin-Doctors Fansite



Albums




posted by Jamloceng @ 5:12 PM


Sleeping pills?
I can't sleep for several days now. The reason...Husna is crying. Can't complaint tho, she's my daughter. Maybe i should take some sleeping pills. No thank you...im not taking the sleeping pills.

I know taking sleeping pills is not a good thing to do. Sleeping pills can and do become addictive. In addition, your body can develop a tolerance after the first couple of weeks. Also, another point that most people are unaware of, is that the pills usually contain an antihistamine, like that in most sinus medications. This can make your nose, mouth and eyes dry, so be sure to drink plenty of water ro avoid dehydration.


Lack of quality sleep can kill you. So, i'm off to my shack...later. Ermm...why not i make a "wake-up" pills? That sounds interesting.
posted by Jamloceng @ 1:31 PM


Friday, August 26, 2005
Google that talks back
Google released their own VoIP tool. Google Talk is a downloadable Windows application that enables users to quickly and easily talk or send instant messages to their friends for free. Calls are made through your computer using the latest voice technology; all you need is an Internet connection, a microphone and a speaker. If you don't have a speaker or built-in microphone, you may want to consider buying a headset, which will also provide the best voice quality when using Google Talk.

Google Talk is a great way to communicate with your friends without having to leave your computer. Ever just need to ask someone a quick question? Has planning for something over email gotten too complicated? Now you can get in touch with someone instantly without having to reach for the phone. You don't even need to reach for another address book. Your Gmail contacts are pre-loaded into Google Talk, so you can email, IM or talk to your friends with just a few clicks.


Google Talk is simple and intuitive to use. There's no clutter, no pop-ups, no unnecessary software to install. And we think you'll like the Google Talk voice quality. In fact, we think you'll like it a lot; it's like your friend is sitting right next to you (and your voice will sound a lot better than it does on answering machines).

To use Google Talk, you need Windows 2000, Windows XP (Home & Pro), or Windows Server 2003. You'll also need a minimum 56k dial up connection, but a broadband connection is recommended. To make voice calls, you'll need a microphone and speakers (for optimal voice quality, we recommend using a headset). Google Talk works with any computer speaker and microphone, such as the ones built into many PC laptops today, as well as with wired and wireless headsets and USB phones. We've created a list of recommended accessories for the best Google Talk experience.

The downloadable Google Talk client is not compatible with Macintosh or Linux systems at this time. We look forward to offering support for more operating systems in the future.

Google Talk also supports standards-based communication clients, which means that Gmail users can access the Google Talk service and exchange instant messages using other clients that support the standard XMPP protocol, such as Trillian, GAIM, iChat, Adium, and Psi. This allows users to access the Google Talk service for instant messaging from all major platforms, including OSX, Linux, and Windows.
posted by Jamloceng @ 2:58 PM


My child
On the 16th of August at 2 in the morning, my wife wake me. She told me that her water just broke. For a first timer, looking at the water on the floor kinda scary. Well, not "that" scary but...ok ok im panic lil' bit.
I brought her to the living room. At first my mother in-law keep asking me to call the ambulance. So i dialed the number. Then she told me not to call yet ( i'm totally confused at that time ). "To call or not to call...that is the question" sounds like
Shakespeare in total panic LOL.


We decided to wait for a while. My wife's contraption still not in the "rapid zone". I hold her hands and told her that i love her so much. I kept reminding her to pray and to stay calm. She smiled at me and said that she loves me too and the baby is her proof of love towards me. I can't hold my tears any longer. Even she is in great pain but she still smile for me.
At 7.00 in the morning we decided to pack our bags. Arrived at the hospital around 7.30 in the morning. At the counters, an officer told us to go to the next block. We walked slowly to the block while her water still running between her legs. In that building, a doctor inspected my wife while i waited in sweats. About 30 minutes in the room, the doctor said that she need to be warded.
Off we go ( again ) to "check-in". Her ward was on the first floor ( Wad Melur 1C ). While she's on the bed, i went back to the counter to pay for the bill. And the time ticks.....

I slept at the hospital for several nights and making friends with other "soon-to-be-daddy". I can't sleep because of those darn mosquitos. My wife's contraption getting faster everyday...then on the 18th of August at 1.50 in the morning, she SMS me saying that it's time. Hearing the word " it is time" made me realized that "it is time".

I went to her room to comfort her. Trust me, looking at your wife in great pain will make the thoughtest man cry. I can't bare to see her in pain but nothing i can do. "Ingat Allah...mengucap banyak-banyak. Sabar ye, kejap lagi baby yang kita tunggu selama ni akan ada dalam pelukan ayang." i said to her.


At 2.30 a.m , she went to the labor room. I wanted to go with her but i can't. "Please, can i go with her to the labor room?" i said to the nurse. "Sorry, but you can wait outside" said the nurse. So i waited for her outside the labor room. At 4.30 a.m
( 19th August 2005 )
, there she was, smiling at me. I'm speechless...our baby in her arms. I walked to her slowly and with a quick glance at her wrist, i saw a pink ribbon. The pink ribbon is for baby girl and blue for baby boy.
I kissed her forehead with tears running freely from my eyes. Then i kissed my baby. Such a cute baby girl and i'm a proud daddy. Husna Khalida is her name. God, give me the strength to lead my own family. Insya-Allah.
posted by Jamloceng @ 1:10 PM


Monday, August 15, 2005
CSS for newbies
What is CSS? CSS is a new feature being added to HTML that gives both Web site developers and users more control over how pages are displayed. With CSS, designers and users can create style sheets that define how different elements, such as headers and links, appear. These style sheets can then be applied to any Web page.

CSS can also solve the common HTML problem such as ID tags.HTML tags were originally designed to define the content of a document. They were supposed to say "This is a header", "This is a paragraph", "This is a table", by using tags like h1, p, table, and so on. The layout of the document was supposed to be taken care of by the browser, without using any formatting tags.

As the two major browsers - Netscape and Internet Explorer - continued to add new HTML tags and attributes (like the font tag and the color attribute) to the original HTML specification, it became more and more difficult to create Web sites where the content of HTML documents was clearly separated from the document's presentation layout.

To solve this problem, the World Wide Web Consortium (W3C) - the non profit, standard setting consortium responsible for standardizing HTML - created STYLES in addition to HTML 4.0. Both Netscape 4.0 and Internet Explorer 4.0 support Cascading Style Sheets. CSS can also save your time such as styles in HTML 4.0 define how HTML elements are displayed, just like the font tag and the color attribute in HTML 3.2. Styles are normally saved in files external to your HTML documents. External style sheets enable you to change the appearance and layout of all the pages in your Web, just by editing a single CSS document. If you have ever tried to change the font or color of all the headings in all your Web pages, you will understand how CSS can save you a lot of work.

CSS is a breakthrough in Web design because it allows developers to control the style and layout of multiple Web pages all at once. As a Web developer you can define a style for each HTML element and apply it to as many Web pages as you want. To make a global change, simply change the style, and all elements in the Web are updated automatically.

As explained in this great book
, you can do almost anything using CSS without any major re-coding. Just put the proper CSS syntax and off you go.

Related books:



HTML, XHTML, and CSS Bible
posted by Jamloceng @ 5:39 PM


Fog 'em out
I hate this fogs. Made my eyes red and my throat not feeling great. Personaly, i think that our government should sue the Indonesian. The Indonesian thought that the fog will stay at one place. Nehh.....wrong answer and now you must pay for all the damage. Fog is not good for our health and our government declared "curfure" for several days. For me that is "total money lost". Our ship ports are closed due to the heavy fogs. Just imagine how many we lost during the curfure? Millions....not one or two bucks...but millions per day.

They must take the full responsibility for all the damage they have done to us. Before this they sent their army warships to our shore because they wanted our oil but why can't they send us "money" for the damage during the fog "season"?. For me, our government should stand their ground firmly regarding this issue. Enough is enough....it is time to collect the paycheck from them. This happens to be their "annual" "im-not-guilty-season". We are sick of that answer..hearing that same answer year after year makes me sick. Stop giving us that " i-don't-know" face and start paying us for all the damage you have done to us.

I know we are close friends but enough is enough. You can't even control your own "open-burning" laws. Time to change your policy and i think the Indonesian must respect the Asian declaration regarding "mass-fire" and environment issues. Asian declaration is not there for display. I don't think sending our men to help them is a good idea. They should deal the problem from within not by asking for help when the problem getting bigger. Bring back our boys home for their own safety.

Enough is enough...we've sent our boys during tsunami and now we are sending our boys again? Don't get me wrong, i have lots of friends from there but as i said...enough is enough. It is time for them to figure out what's good for their "best friend" during tsunami lat December. We even accept their workers ( more than 400K ) and this is how they say thank you to us by sending us fogs?

Enough is enough. Time for our "annual" paycheck.
posted by Jamloceng @ 10:36 AM


Friday, August 12, 2005
Pendapatan Adsense
Anda mempunyai website atau blog? Apa kata apply Adsense dan dapat duit. Adsense ni daripada Google yang mana percuma untuk anda mohon tapi anda akan dibayar kemudiannya. Adsense adalah satu lagi cara untuk mendapat pendapatan sampingan. Seperti yang diterangkan di post yang terdahulu, Adsense juga dapat menjana pendapatan sampingan untuk anda. Apa itu Adsense.

FOR ENGLISH VERSION, PLEASE CLICK HERE.

Anda selalu mimpikan pendapatan sebanyak Rm3,000 sebulan? Inilah masa untuk anda menjana pendapatan yang diimpikan selama ini. Joel Comm adalah contoh terbaik bagi anda. Lihat sahaja pendapatan Joel pada bulan April 2005 sebanyak $25,283.02 ( Rm 101132.08 ) dan bayangkan jika Joel mampu mendapat pulangan begitu apatah lagi anda.

Tunggu apa lagi? Inilah peluang anda untuk menjana pendapatan sampingan tanpa perlu bersusah. Anda sanggup menghabiskan sejam atau dua jam masa anda? Jika iya, anda mohonlah Adsense dengan segera. Cuma sejam sahaja dan anda tidak perlu lagi edit laman web anda!. Masih tidak percaya? Perasaan itu memang boleh difahami. Jika anda mempunyai sebarang persoalan, sila lawat laman web Joel Comm dan ungkaikan segala persoalan itu. Saya sudah, anda bila lagi? Atau sudah berpuas hati dengan pendapatan sekarang? Tepuk poket tanya dompet.

Klik disini untuk sebarang persoalan.


posted by Jamloceng @ 2:08 PM


Joel Comm's Adsense
Adsense is a system that can help you generates extra income. Many webmaster put Adsense in their site. Adsense is a great product from Google and you can apply it for free. Yes, free of charge registration but it will pay you. How can that be? How can Adsense help me to get that extra income? Well now, Joel Comm is the living proof on how he made some nice bucks using Adsense. As i told you in my previous post, internet is the biggest income giver. Keep on reading.

Joel who? I guess it's history lesson again. Joel Comm is no stranger to the internet. In 1997, a company called Yahoo! purchased his game site, ClassicGames.com, and today it's known as Yahoo! Games. His face is seen hundreds of thousands of times daily in the form of a cartoon avatar at the Yahoo! Games game tables.

UNTUK VERSI BAHASA MELAYU KLIK SINI

Joel made huge income from Adsense from his site. If he can do it, why must you wait? You can learn so much from Joel. Don't believe me? Why not go to his website and look at his latest income. He made $500 per day just by using Adsense in his site. On April 2005 alone he made $25,283.02 and imagine how much you can make by using Adsense.

If you already using Adsense for your site and not making as much as Joel, then it's time to change to plan B. No need to signup a new account with Adsense...just use your existing account. Some webmaster already made $900 per month using Adsense and so should you. I know i will because i am the owner of this blog. So how can you generate income using Adsense? Don't worry, help is on the way. I'll show you how you can get that extra ringgits. Just keep on reading and i'll show you how.

Joel's method to get Adsense running is great. Simple yet powerful. This is what Joel called "the lazy way" of making money. Can you spent 1-2 hours a day? If the answer is yes, then you are in luck. Yup, it only took 1-2 hours of your time ( in my case, less than 1 hour ) and off you go. Looking at the income from Adsense will make you crazy ( believe me ). Check your income every 5 days to be safe if you are looking at your Adsense income every 10 minutes, you'll go crazy. That is how many ringgit you'll make!!

To know how Joel made such a fortune, why not ask the "guru" himself. He will show you all the steps on how to get Adsense on your site. Email him..seduce him..do everything you can think of, still he will help you. Still don't believe me that Adsense can buy you a new car? Then click here to see the proof using Joel's method. Still here? What are you waiting for? For my friends from Malaysia, jangan lepaskan peluang keemasan ini. Duit sudah berada di depan anda cuma menunggu anda mengambilnya.

posted by Jamloceng @ 1:47 PM


Thursday, August 11, 2005
Architect at work
So you wanted to be an architect but don't know how. I'm a freelance architect and today i will give out some nice tips on how "not-to-get-cheated" by architects.

First you need to know about your budget. You must remember, any architect plan is base on YOUR budget. So, make sure you get your budget right. To get the budget for your architectural plans, always ask experienced contractor. Get the latest price for :

1. Concrete per meter cube
2. Bars per tonne
3. Woods
4. Roofing

Above are the most basic things you must know. Using the prices, you can get the basic idea on how your home will be. For readers from my country, if your home is below 3000 square feet, a licensed draughtman can make your architect design ( read as cheaper price ). If your architect design is above, then you must prepare to pay more. Architect are divided to 2 type:

1. Architect fee taken from the percentage. Usually 20-32% from your budget
2. Architect fee taken from the "square feet".

After getting all the above done, now it is time to plan your home with the architect. Get a formal letter from the architect first bedore asking the architect doing anything. This letter is called Letter Of Appoinment and make sure you read the terms before signing it. Make sure the letter contains :

1. The architect will be in charge from A to Z ( meaning from submitting to the local authority to obtaining a CF )
2. The architect will inform you of any changes in the local authority terms ( read as new laws )
3. They will take full responsiblity on their plan.

You must give them your land grant before they can make anything for you. Do not give them the grant untill you are sure you can trust them. Always refer to your local architect board if you have any question.

After everything went well, it's time to make your plan. Remember, you are the boss. Any changes must be at your approval. They can't simply change their design without asking you. If you feel that their plan is not up to the level, you can ask them to change it at no cost at all.

Now your architect plan is done, now what? Remember, you paid them according to the law. Meaning you pay them only 30% first. During the actual construction, you will pay them another 40% ( you can divide the 40% into 3 parts if you want ). The rest of the payment you only pay once your home received the CF from the local authority. Do not pay them before you get the CF!!

Always ask them to give you the "Progress report". This report is crutial to make sure your home is not over budget. The Progress Report containing :

1. Monthly report from the architect
2. Monthly report from the engineers.
3. Monthly report from the contractor.

All the reports will be compiled and you can get the report for free. I do hope this guideline can save you a great deal of money. If you want to make an architect plans for your home, drop me a line and i'll give you my price. Not just that, you can hire me to handle everything from designing your home right up to make a nice "below" budget for your interior.
posted by Jamloceng @ 1:41 PM


Wednesday, August 10, 2005
Konfabulator
Konfab who? What is that? Konfabulator is a JavaScript runtime engine for Windows and Mac OS X that lets you run little files called Widgets that can do pretty much whatever you want them to. Widgets can be alarm clocks, calculators, can tell you your WiFi signal strength, will fetch the latest stock quotes for your preferred symbols, and even give your current local weather.

Some time in early 2000 Arlo Rose came up with an idea for a cool little application. It would use XML to structure images, and a scriptable language, like Perl, in such a way that someone who knew the basics of Perl could put together cool little mini-applications. The goal was that these mini-applications would just sit around on your desktop looking pretty, while providing useful feedback.

Yup Konfabulator is great for user with "high-end" computer. For "lower" computer specification, please don't download this software. Another thing....dial-up user, don't download this file, it is HUGE. For me, im not that fancy about Konfabulator. But if you want to try, point your mouse here.
posted by Jamloceng @ 4:53 PM


Online streaming
Do you want to have your own online streaming radio? Then you can download this tutorial on how to setup online streaming radio. Online streaming radio can be use to promote your website, song or product. Just make your own "pre-recorded" ads and put it in your streaming radio. This method is free and you can run your online streaming radio using your own computer.

Enjoy this tutorial and feel free to distribute my tutorial. Please do not charge this tutorial for any amount at all. Have fun....welcome to the world of radio DJ'ing. Promote your music now.....for free.

Download the tutorial here.
posted by Jamloceng @ 1:13 PM


Monday, August 08, 2005
Heart transplant
Slept at the hospital since Friday. My father need a better treatment for his heart. Right now our financial is not in the best situation. Getting RM80K for a heart transplant is huge amount of money. Have been working like a dog to get some extra money for my father. I just can't stand anymore looking at my mom crying when my father in the "attack".

Only to Allah i can pray. I know He is lestening to my prayer. I know help is on the way. I told my father to sell our house and the rest of the cost, i'll take out my KWSP saving. But he never agreed to my idea. "This is our home, never sell our home" he said to me one night.

On weekends i'll be all over the town to get some bucks. Selling my drawings and painting or sometimes doing live sketch for RM25 per piece. I sold my stuff... i cut grass for RM30....selling fish in the market....working in hotels. Still, for an average person, financial issue always a big problem for me. I'm doing all this for my father. Without him, this world is not mine to see,feel and touch.

I'll never give up to get him a proper treatment. I'm not a quiter...i'm a fighter. "Remember, never give up. Do the best and God will do the rest" he said to me. That is why if someone quit too soon, i'll get mad. Never give up....never surrender. A friend of mine said he is "bored" with his search for stable income using internet...and guess what, i hate the word "bosan". I'm doing my best for an extra income and i know God is listening. Insya-Allah.
posted by Jamloceng @ 5:17 PM


Friday, August 05, 2005
Mental health supplement
Mental health is important to all humans. Over 50% of your brain is made of good fat. Twenty percent of this good fat comes from EPA and DHA. Remember EPA and DHA comes from:



1. Omega-3 fatty acids
2. Eating fish
3. Borage oil
4. Primrose oil
5. Parilla oil
6. NOK oil



I have covered all these oils in other articles except NKO Krill Oil. This oil is the new kid on the block. It comes from Antarctic krill, a crustacean found in the Antarctic waters. It provides EPA and DHA like borage oil does, but its chemical structure is phospholipids. Phospholipids are easier for your cells to absorb than borage oil's EPA and DHA, which is in the form of triglycerides.

Lecithin is also in order since it helps to provide choline, a precursor to the memory neurotransmitter acetylcholine. It also provides the chemicals to produce RNA. Heart disease is closely related to Alzheimer's because the heart must be strong enough to pump plenty of blood into the brain and the arteries must open enough to circulate enough blood through the brain and throughout your body.

Here is my recommendation for supplementing with the essential fatty acids:

1. Eat more good fish, at least once a week and occasionally twice a week
2. Eat less fat and particularly saturated fat. A good number for daily fat intake is 15-20% of your overall calories.
3. Take daily, flax seed oil and olive oil for the omega-3 and omega-6 oils
4. Take a daily supplement of NKO or Borage oil, which supplies EPA and DHA

The original author of this article is Rudy Silva ( degree in Physics ) and working as Natural Nutritionist
posted by Jamloceng @ 3:16 PM


Thursday, August 04, 2005
Bali vacation
Bali is a popular destination for pleasure-seeking Western and Asian tourists and everything you can think about Bali and Indonesia.

One of the approximately 14,000 islands that comprise the Indonesian archipelago, Bali anchors east of Java, separated by the small Strait of Bali, and surrounded by the Java Sea on the north, the Indian Ocean on the south, and the Strait of Lombok on the east. A string of volcanic mountains crown the northern part of of the island, with Gunung Agung (Mount Divine, literally) as the tallest at 3,142 meters. This volcano, as well as Mount Batukaru, Mount Batur, and Mount Merebuk is still active.


And here is the rest of it.


With online hotel booking, vacation in the island is just a step away. Pack your bags and take a nice vacation in there. Buy some furniture and give it to your family and friends. Hand-made Bali furniture is well-known all over the world and the price is so cheap. For a teak sofa, you can get it with low price. Vacation in that island is my next plan and so should you.
posted by Jamloceng @ 1:21 PM


Wednesday, August 03, 2005
MMS for mobile
What is MMS?
Multimedia Messaging Service (MMS) adds images, text, audio clips and ultimately, video clips to SMS (Short Message Service / text messaging). Simon Buckingham, CEO of Mobile Streams believes that: 'The transition from Short Message Service (SMS) to Multimedia Messaging Service (MMS) is as important on mobile phones as the transition from DOS to Windows was for the PC. It represents a revolution. Unlike other technologies like WAP, Bluetooth etc - MMS offers a complete development and billing environment along with a chance to create compelling applications.

How would end users interact with MMS?
In terms of usage, Multimedia messages can best be understood as 'choreographed PowerPoint presentations'. What does 'choreographed' mean? The multimedia presentation, which consists of elements such as music, voice, images, text, video, and graphics - are all synchronised across a common timeline (i.e. not delivered as attachments) as in an email. Similar to an SMS, the recipient receives a notification and when the full message is received, the presentation starts running. Visually, the presentation looks like a choreographed slide show with images (both photographic and animation) and sound. Another way to think of MMS is as a presentation layer over email since MMS uses many email technologies. Unlike SMS communication, MMS communication will not be discreet i.e. rich media lends itself to be 'flaunted' rather than being discreetly in the background. This trend is already noticeable with richer media such as ringtones.

Now everything is about MMS service. Modern mobile phone comes with MMS and suitable software. Most MMS mobile phone uses Symbian Os for their Operating System. Please beware of MMS virus. Dangerous MMS viruses are spreading in the wild so make sure do not open any unknown MMS.

Using MMS can keep us close to our family and friends. With faster MMS service, you can send your birthday party MMS picture to your family or friends. You can also use MMS to post an article to your online web. Romours said next year is the "war of the price" between Celcom and Maxis for their MMS service. That would be great for customers with lower price for per MMS.
posted by Jamloceng @ 7:07 PM


Webpage making
Just came across a site that sell the "how-to" make your own website. This guy is selling his eBook for RM20. What a rip-off. All the info about on how to make a website can be obtained freely from the internet. You can always use Google to find the info. Making a website is not that hard using the right software. Let me scale down the process for you.

Software:
For HTML handling
Microsoft FrontPage/HotDog Pro/CoffeCup HTML Editor

For Uploading
Cute FTP/SmartFtp or upload directly using the HTML editors above

Others
SWISH for flash animation
Any GIFT animation editor
Any graphic compressor
Any graphic editor ( Photoshop or GiMP )
Notepad ( manual editor )
UltraEdit ( manual editor )

Knowledge:
100% your own brain

Most of the HTML editor or well-known as WYSIWYG ( What you see is what you get ) comes with "help file" or tutorials. Just press F1 and you will be given the help you need. Any WYSIWYG editor already compiled some usefull template waiting you to use it. If none of the template suits you much, head to Google and search for a free template. Modern HTML editor also comes with plug-ins such as Javascript editor, forms, table and even ftp function. Again, you need to press F1 to get the info.

For more advance feature for your website, googled it. For example if you need a tutorial on how use javascript, again pure brain is needed ( unless you don't know what Google is ). Internet is the biggest library and most of the infos are free to use. No need to buy an eBook for RM20 and expecting your website to be fancy by using the eBook. For latest Microsoft Words, you can make you website using it without any fuss. Try to make a simple website before sliding to the next level. Once you have mastered the basic, smooth salling all the way for you. When i'm takling about "the next level", i meant using JavaScripts, PHP, Perl, Python, Flash etc. In other term, grab your basic skills first.

Using any FTP client is easy to use. As i stated before, latest HTML editor comes with FTP function. Again, the keyword is brain....use the F1 button. Any FTP client need you to enter the corret FTP server of your website and it is done. If pushing a single button seems too hard for you, then you should stop making your website and hire somebody that can push that single button. Feel free to hire me to push that button ( $450 per click ). LOL.

To spice-up your website, you can always use some cool graphic. By using any graphic editor of your choice, make some nice looking menu or logo. If you feel so lazy, googled for a free logo or picture. Still saying it's hard to make a simple site? Normally i'll charge $4,500 for making a new website, because you are so lazy, i'm charging you $30,000. Fair enough don't you think so? Try using GiMP, it's free and small to download. GiMP is fast and easy to use. Remember the F1 button? Use it everyday. After making that "killer" logo of yours, it's time to put it on the HTML. All you have to do is, drag the logo...that's it. What? Too complicated? Man...it's time for you to sell the cotton candy or sell "mapiau"...that would be less hard for you.

No need to join the "jump wagon" yet. Take some time to play around with the softwares. Do it for 2 hours a day, 5 days a week and you can start making your first site. Always search the internet for extra info about the software. To be honest i only use my Notepad and GimP to make my site. Wait, don't start uninstall the needed software yet. The reason i use Notepad and GiMP is because i've been online for years. Even now, sometimes i use UltraEdit to edit my site.

Join any "help" forum or IRC channel for more "on-hand" help. For example, you can always join this forum for help on HTML, flash or any related matters. Look under the topic "tutorial" but please bear in mind, this is a Malay speaking forum. If you feel comfortable for "real-time" help, you can always use IRC. Just type /help and all the help related channels will be shown to you.

Have fun and i'm sure your effort worth your time...and your brain. LOL. BTW, if you purchased the eBook from a Malay speaking website with title "membina laman web cara mudah", claim back for a refund.
posted by Jamloceng @ 6:51 PM


Laptop for bussiness
Laptop getting cheaper everyday and the specification getting faster and complex. For basic user, a laptop ranging from RM2000 ($531.992). For more feature, laptop can go as high as RM12,000 ($3,202.38). Before this laptop looks kinda bulky and heavy but now with the latest technology, laptop can be as thin as a cigarrete box. This is because of hardware getting smaller and lighter.

Note : Currency conversion was made by XE.com

Toshiba launched several laptop for basic and hing-end usage. Several laptop from Toshiba are Toshiba Satellite M30X
,Toshiba Satellite A70-S2482TD
and Toshiba Satellite R10-S802TD. Their "after support" also great and you don't have to worry about hardware replacement.

Acer, the no.1 laptop brand in Malaysia offering wide range of laptops. At their website, you can get the latest drivers for your latop. There's no shortage of driver update at their website. Acer uses Microsoft XP for their latest laptops for maximum productivity. One of the most best-selling laptop from Acer is TravelMate 8100 Series and Acer 1690 Series.

Note: Microsoft XP
comes with free shipping during their promotional plan.

Hawlett Pakett need no introduction for its low price and super-stable laptops. With the latest Operating System and hardware, you just can't deny it. A brand with years of experience, HP always a step ahead of its competitors. After-sale support is at the best compared to others. The best thing about HP is, "easy-to-get" hardware is their strong hold. No matter if are "basic" user of "power-user", HP provides you with the top notch in laptop industry. With their wireless laptop, you can always "on the move". Product like R4000 series is a must for a mover like you. Just plug your car adapter
and off you go. The smart computing laptop from HP can really change you computing approach thus saving your time to 60%.
posted by Jamloceng @ 12:40 PM


Tuesday, August 02, 2005
Architect for home
Just closed a deal with my client. He wanted me to design his new home with a mix of colonial and malay look. His budget for his new house is about RM300K. Alhamdulillah.

Two storey home is not a big problem for me to come out, but his vision about the home is "out of this universe". Stagged floor level on the first floor is a big challenge for me. Home with stagged floor level can be confusing. The location of the beam is not inline with each other and that is the challenge.

His bedroom is connected to a wodden bridge outside...and that bridge is located at the back of his house. At first that was confusing but after a while, we manage to solve the problem. Just image his bedroom ( on the first floor ) connected to a wooden bride leading to a wooden gazebo at the back of his house. Sound complicated? Not really.
For a 15% fee from RM300K project, i'm willing to say yes to anything. Big bucks for me this month. His home facing the open sea and what a great view that is. I'm always wanted a home facing the sea. Maybe next time if the money is there, maybe i can purchase a home near the sea.

Next to his home, he will construct an Islamic school and i'm hoping to get that job too. This time maybe for free. He is an ulama and his school will be well equip with the latest computer and education tools. With the "unlimited budget" for the school, i can imagine how it would look like. Time for some charity don't you think so? For home design
reference, you can always consult with an experienced architect or better, me LOL.You can always search for jobs as an architect using Google below.

posted by Jamloceng @ 3:10 PM


Monday, August 01, 2005
Cheating the big G
Here's a quick tip on how to download mp3 from Google. Fire up Google and enter this index Slipknot mp3. Then a list of index will show all the result.

Look for Index of / in the result. Now you can download all the mp3 in the list. You must change "Slipknot" to something else. If you are looking for siti nurhaliza : index siti nurhaliza mp3

Read more >>.
posted by Jamloceng @ 7:10 PM


My first child
22 August 2005 is a big day for me. Im expecting my first child. Im happy and im scared. Happy because a child is statement of love between me and my wife. A child means, my legacy will move on. Right now we are preparing some baby stuff. Alot of cotton clothes for my child. A child means i can take him fishing or teach him how to ride a bicycle. I'm thinking on getting an education scheme for my baby.

Im scared if i can't give the baby my love. I'm scared that i can't be a great father for him. I'm scared of not going to his first day at school because i'm too busy with work. But that's the future and i'm going to focus on things going on "today".

We kept changing our choice of name. Still can't make up our mind on this matter. If a boy, i'm thinking Mohamad Adib Iskandar and if a girl Nur Fatihah Illya. Any suggestion guys? I'm stuck with this "name-giving" process. I've been reading this book
to understand more about a newborn. Ma&Pa mags also in my daily reading list. Kinda weird looking at a baby coming out from...you know where. I don't know if i can stand looking at blood while in the delivery room. Some said if a baby listen to a soft music
, his/her brain will develop faster.

More info >>
posted by Jamloceng @ 3:26 PM


Missing childrens
Every year the increasing numbers of missing children in the world scared us. In the Canada alone, more than 53,000 child missing in 2004. Some are murdered and abducted in the most brutal way. Missing a child is devastating for the parents. You can prevent this from happen by getting the right infomation on missing child.

A good place to start is MissingKids.com. Full of information on how to deal with police reports, lawyers and nice tips to guide your child while online. If you saw any of this kids, you can always report to them. They also provide a support group ( US only ) for parents that already missing their children.

In my country, usually Jabatan Kebajikan Masyarakat will handle missing child cases. Together with the police, JKM will try to help finding the missing child. The police usually will form a team with our neighboring countries. Please, do contact JKM if you need help and never hesitate to report to the police.

Note : JKM is a government body that handles chariy for those who in need. They help the poor and orphans. You can always make a donation the the orphans and poor through JKM. Any type of donations are welcome.

Another way to find or report missing child is by using a software. With huge database on missing child, it's fairly easy to use the software. MissingSearch.com is body behind this new technology and offering a free download. I do hope they will extend their coverage to all over the world, including ours.



Feel free contact JKM at :

Jabatan Kebajikan Masyarakat ,Tingkat 21-24,
Menara Tun Ismail Mohamed
Ali, Jalan Raja Laut,
50562 Kuala Lumpur. TEL: 603-2697 1090
posted by Jamloceng @ 2:56 PM


Rope him
In the name of Allah, this fake prophet must die. You can read my previous post about fake prophet.

On Saturday (30 July 2005) our local tv station shown us how lost the fake prohpet is. Im talking about Haji Kahar from Selangor. In his own words, he said that Islam is now complete and he resign from being a prophet. I never heard any prophet resigned before...not Musa (Mosses), Isa (Jesus) or Muhammad s.a.w.

At the court about 50 of his followers barking for no good reason. They said that the Kingdom Of Heaven is their to claim. How can this Haji Kahar guarantee his followers heaven? For a prophet, it is odd to see doing a makruh act such as smoking. But this fake prophet smokes in the court infront of his followers...how odd was that? A real prophet will not commit even a makruh act but this dude smokes like nobody cares.

An old women said that the Kingdom Of Heaven is waiting for her and she waved "bye-bye" to the "none believers". What a joke...does she know that her "prophet" is a fake? Where does the government stands. Talk about government, this reminds me of Ayah Pin another cult nutcase that claims he was the founder of Buddhaisme but declared that he is a Muslim. How can he founded a religion and leading another religion?

When the Terengganu State government decide to demolish home for the poor, they took a short amount of time to make up the decision. But they took such a long time to demolish Ayah Pin's buildings. If the state government can bring down the homes for the poor in zap, why can't they do the same thing to Ayah Pin?

Now our Royal Police Force is hunting Ayah Pin and at the time i post this, still no sign of him. For your infomation, Ayah Pin is the leader of Kerajaan Langit ( Sky Kingdom ) and no wonder the police can't find him, they are looking at the wrong direction. Try looking in the sky, maybe Ayah Pin is there,hiding LOL.

A footage of Ayah Pin was shown in the news channel. That footage was Ayah Pin dress-up in Hindu and went to a well-known Hindu Temple. Now, first he said he is the founder of Buddha and now Hindu? Come on Pin....make up your mind will you. I'm not surprise if he claims to be the founder of Christian. Does this means that Ayah Pin is God for Muslim,Hindu and Buddha? Not even close. How can a "founder" to several religion gamble? How can the "founder" of several religion doing things that is prohibited in all religion, that is gambling?

To Ayah Pin and Haji Kahar, please take a rope and put it around your neck. You can do that privately or in public, your call. And to the "moron-dumb-a$$-followers", stop spreading lies. I just want to ask one question to you ( followers ), do you affraid of death? If the answer is yes, why must you be scared of death? For someone who have been guaranteed Kingdom Of Heaven, there's no point be scared of death. Don;t think with your tinny-brain yet, ask for a second opinion.
posted by Jamloceng @ 12:06 PM