Sponsored By
Contributors
Below are readers who have donated to me as a thank you token. If you feel that my post are worth reading, please donate to me at any amount. Thank you.
Link to me
Book i read.
Stats
Friday, December 02, 2005
Time for Adsense game.
An idea came to me while i'm playing Monopoly last night. How about a board game of Adsense? This board game not an advance game but to understand the basic of Adsense, this might help you. I'm not good in flash animation that's why i used an image board game. If you want to help me in creating a flash Adsense board game, please do so. For now, just print the board game and enjoy.

Objective.
Optimize your Adsense so can make $150 daily or more. You set your own goal of your Adsense income.

How to play.
You need a dice and follow to instruction in the boxes. Once you hit the red button, read the instruction.

Red button #3 Your Adsense is not related to your content. Please edit your content by optimizing your niche keywords and removing non-related keywords can help you alot. You lost your turn, please wait.

Red button #7 Congrats, you just add your Adsense at the best position according to Adsense Heat Map. Move 4 steps.

Red button #12 Someone just filed a complaint about your content to Adsense DMCA. Reply to Adsense and take one step back.

Red button #16 You need to tweak your Adsense more by using Adsense Section Targeting. Move 6 steps.

Red button #18 Oppss...you just broke Adsense TOS regarding editing their code. You lost your turn, please wait.

Red button #22 You just hit $25 daily,congrats! Move 6 steps forward.

Red button #26 Need some help? Go to Adsense Bl'og. Move 2 steps forward.

Red button #28 Your Adsense format is not suitable to your site layout. Please select another format. Move 3 steps back.

Red button #31 You almost to reach your Adsense goal, congrats! Move 3 steps forward.

Red button #34 Fraud clicks! Bad news for you. Reply to Adsense quickly and move 6 steps back.

Red button #36 Because of too many fraud clicks, you have been removed from Adsense. Sorry, please take 7 steps back.

END Congrats, you just reached your Adsense goal.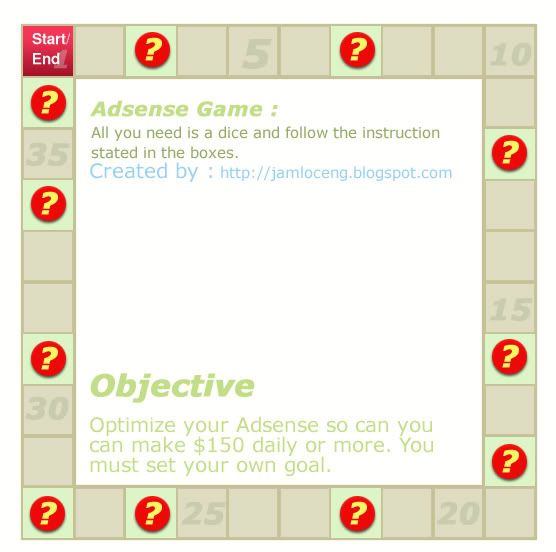 Click here to view full page.



Update: 6.43 Malaysian time.
Feeding your subconcius with a vivid result can actually help you in anything. That's why i've created this board game for me and you to set our own goal so we can see our goal. Less in 8 hours, my email are full with comments about this simple game. I'm amazed how Adsense publisher don't tweak their Adsense. I'm looking forward to update this board game with more info. I've notice some typos in my Adsense board game and i'm working with a new version soon. But the basic is there. If you decided to make your own Adsense board game, please give me some credit because this game have never seen before.

By using Adsense board game, we don't have to re-read Adsense policy all over again. It's fun and easy to remember about Adsense tips and tricks. I hope you can pour in some idea on how to make this game more informative. See you later.
posted by Jamloceng @ 1:51 PM