Sponsored By
Contributors
Below are readers who have donated to me as a thank you token. If you feel that my post are worth reading, please donate to me at any amount. Thank you.
Link to me
Book i read.
Stats
Wednesday, December 07, 2005
Software review for bl'oggers.
I just love using wBloggar for my offline and online publisher tool. Free, small and with their template editor, you can do so much things. After several days of using a new publisher tool, it's time to give out my verdict.

Quamana is another freeware for publisher and easy to config. For me, the most important thing in software is how easy for me to config it and Quamana proves to be easy to config. Before i go into the details, let me show you what Quamana is all about.


AdGenta is Qumana Software's newest development. AdGenta is an advertising network focused on inserting ads into blog posts. Our ad network is based on gathering the best of other ad networks, and invidual partners, into one central location. This gives you the best inventory, the best CTR, and the greatest opportunity to earn money.


Meaning if you have AdGenta account, you can easily insert their ads using Quamana. But i'm not using AdGenta but solely testing Quamana publisher tool. Before you signup with AdGenta, make sure you ask Adsense ( if you're an Adsense publisher ) if it's ok to use AdGenta side-by side with Adsense. This might help you in following the right track according to Adsense TOS.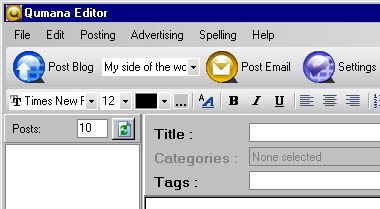 Above is the main interface for Quamana. Nicely positioned menu and big icons to help you get around more easily. As you can see, they have a built-in tags for Technorati. With an extra function to email your article is something that you want in the future ( ~ I rather use Mozilla Firebird ).

Let us config Quamana shall we. It's easy to config with support for major bl'ogger provider already in it such as Bl'ogspot, TypePad, WordPress, Moveable Type and much more. I'm going to show you how to config Quamana for Bl'ogspot server. Go to Setting and select Publisher to begin config it. Just insert needed information and you're done.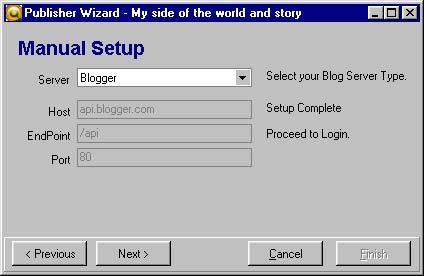 Another nice function added in is Proxy support. If you're bl'ogging from a restricted internet connection ( collage, cyber cafe and such ), you can use proxy for your publishing needs. I've tried using proxy from China and it went well with Quamana. Drag&drop is great if you have any offline article. Just drag your article and drop it in Quamana basket.

My verdict is i'm giving Quamana 3/5. The reason is, it's slow-loading is the main down side compared to wBloggar. But if you're looking for more advance feature, go for Quamana. As i'm writing this review, i still can't find a way to edit my template using Quamana. For me, i'm sticking with wBloggar for its built-in template editor and fast to load. You can try both publisher tool and decide which is the best for your style.


posted by Jamloceng @ 11:11 AM