Sponsored By
Contributors
Below are readers who have donated to me as a thank you token. If you feel that my post are worth reading, please donate to me at any amount. Thank you.
Link to me
Book i read.
Stats
Wednesday, December 14, 2005
Reggae and my Dreadlock hair
Reggae, ska, two-tones, rock-steady and sort are always on my player. I don't how to explaine but lately i listen alot to this kind of music. Before this i listen to heavy metal and rock.

Bob Marley and Mighty Might Boss Tones are my personal bread and coffee. I just love to tune-in to ShoutCast as my main source of reggae and ska tracks. Maybe you can to find your own music there not just Reggae.

Republic Of Brickfields is a reggae band from Malaysia. With butt-level long hair members, it's kind fun to listen to their kind of Reggae. Under the lead of Aru, this band has been to Europe to expande their Malaysian-Style-Reggae.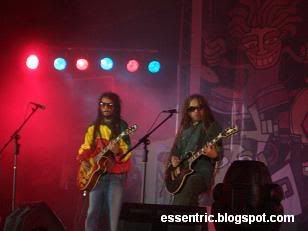 Picture credit to Essentric.blogspot.com



Ever heard about Max Cavalera? Yes the x-frontman of Sepultura actually listen to Bob Marley and with his red-green-yellow dreadlock hair, this guy can also rock. With his new band, Soulfly, i do hope they can come here and perform on one stage as Republic Of Brickfields.

Ermm... ROB and Max Cavalera not just into Reggae but the too have some serious heavy metal band. Aru, the frontman of ROB is also the founder of Koffin Kanser. I can't image Aru if he decided to make a new band performing some 100%-traditional stuff.
Talk about Aru, it has been years since our last teh-tarik. That was in Alor Setar when he and Fathul ( Infectious Maggot was the first grindcore band in the world and not Nine Inche Nails mind you ) balik kampung.

Fathul, another great musician. With his new album already in the market, this is the guy you should hear,see and feel closely. For now, Reggae is playing at the time i'm writing this post.
posted by Jamloceng @ 8:50 AM