Sponsored By
Contributors
Below are readers who have donated to me as a thank you token. If you feel that my post are worth reading, please donate to me at any amount. Thank you.
Link to me
Book i read.
Stats
Wednesday, December 28, 2005
Ohhhh...what a cute lil' baby you were.
Yup, it's time for our year end celebrities photo display. I'm looking for any local celebrities but i can find any. Maybe Siti Nurhaliza eating her food straight from the plate or Afdlin Shauki at six, that might be fun.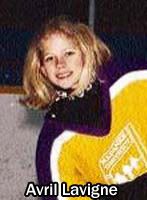 Oh look at Avril with her short hair. Just look how cute she was back in her childhood. This young Canadian was born on September 27, 1984 in a 5,000 population town called Napanee, which is located in Ontario, Canada. Avril Lavigne (Av-reel Lah-veen) was an aspiring young seventeen-year-old who knew from day one that she would be famous. As the middle child, she always tried to grab the attention when it wasn't on her.

She was in many talent shows as a child. She even sang on-stage She got her first guitar at a young age. She broke out of Napanee, Ontario when she was 16. She had been writing her own songs ever since she got her first guitar and has been skateboarding ever since she was 14. While she was in New York, she got signed to Arista Records by L.A Reid. She always writes about how she feels. Various critics have praised her for her songs, saying that they sounded "mature". Her video, "Complicated" won her a MTV Video Music Award for Best New Artist in a Video in 2002. Her popularity has quickly spread from Canada to the US and even all the way to Australia. She tries to stay true to herself.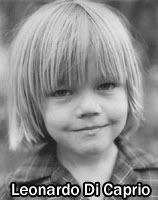 Leonardo was born in Hollywood, California on November 11, 1974. He attended Seeds University Elementary School at UCLA where he also took summer courses in performance art before moving on to the Center for Enriched Studies in Los Angeles.

After CES, the next step was to enroll at John Marshall High School in the Los Feliz area of Los Angeles. Having been exposed to the world of underground art from an early age, Leonardo was instilled with a sense that creativity was a hugely important thing. Early on, he thought of becoming an actor.Always drawn towards performing, Leonardo started auditioning for parts in 1988, at the age of fourteen and appeared in a series of commercials and educational films. From that point he navigated a gradual hill up the acting chain. From bit parts on soap operas, to bubble gum commercials, the first "regular" gig was on the series "Parenthood," (which lasted all of three episodes).





This post is not complete without Britney Spears. Who can forget Oppss....i did it again diva ( is she? ). Born. 2nd December 1981, Kentwood, Louisiana, USA. One of the last teenage superstars of the millennium, Spears enjoyed her breakthrough success at the end of 1998. She appeared in local dance revues and church choirs as a young girl, and at the age of eight auditioned for The Mickey Mouse Club. Although she was too young to join the series, a producer on the show gave her an introduction to a New York agent.

She subsequently spent three summers at the Professional Performing Arts School Center. She appeared in a number of off-Broadway productions as a child actor, including Ruthless (1991). She returned to the [ Walt ] Disney Channel for a spot on The Mickey Mouse Club, where she was featured for two years between the ages of 11 and 13. She began to audition for pop bands in the New York area, her demo tapes eventually landing on the desk of Jive Records' Jeff Fenster. ''Her vocal ability and commercial appeal caught me right away,'' he recalls. She was expensively groomed by Jive, who put her in the studio with Eric Foster White (producer and writer for Boyzone, Whitney Houston and others). They employed top R&B writer Max Martin (of Backstreet Boys fame) to produce her debut single, ''... Baby, One More Time'', and an album of the same title.
posted by Jamloceng @ 4:53 PM