Sponsored By
Contributors
Below are readers who have donated to me as a thank you token. If you feel that my post are worth reading, please donate to me at any amount. Thank you.
Link to me
Book i read.
Stats
Thursday, December 08, 2005
The God of football?
Diego Maradona is the latest God in the world religion. In Argentina, members of the Hand of God Church, known as Diegorian Brothers, believe that Diego Maradona is the god of football. They use his autobiography as their bible, and all sons must be named Diego. For them, this is the year AD42 (After Diego) and Christmas is celebrated on October 30, his birthday.The church was established in the Argentine town of Rosario by Hernán Amez, Hector Campomar and Alejandro Verón.

Wow, i never knew you can be God by playing sports. Maybe after this Tiger Wood can be the next God. How about bl'oggers God?


"We believe he is football's god. So, for us, this is the 42AD," they said, explaining that 'AD' stands for After Diego.


What about that? They're changing the whole calender and i assumed they know how to do that.


The followers call themselves Diegorian Brothers and their bible is Maradona's autobiography I Am Diego.


If you need to read some more, read it at News.BBC. Maybe this is a late news for some of you but.....nah, you figure it out yourself. A God addicted to cocaine? A stoned God?

In Malaysia, we have a nutcase claimming he is the founder of Islam, Christian, Hindu, Buddha and all the religion in the world. Now, our police force is hunting this nutcase. The reason? Flip-flopping with all the religion. Below is the letter this nutcase wrote saying that he is not a Muslim anymore.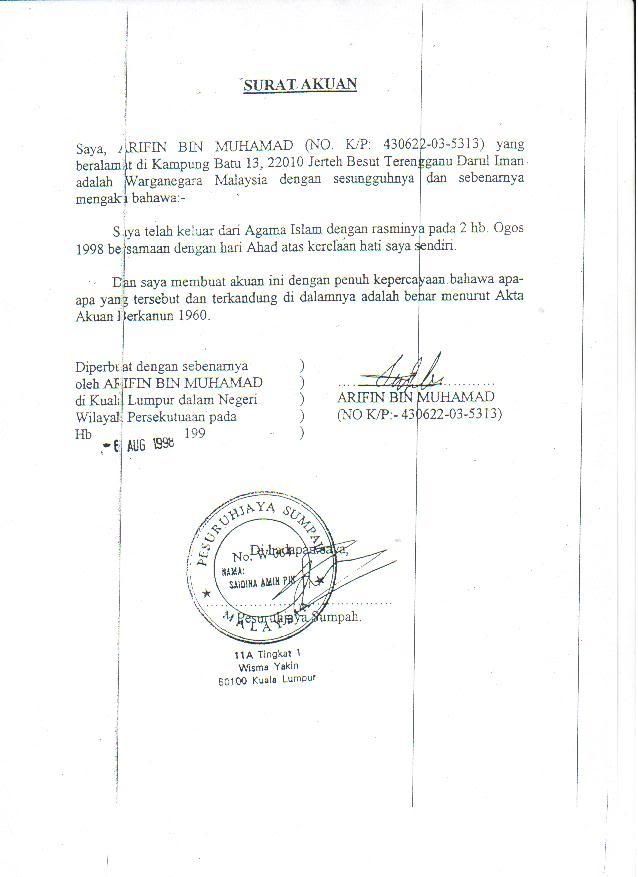 Now, this dude can't be found. Neat eh for a God; leaving his followers behind. Case close and i'm annoyed.
posted by Jamloceng @ 6:09 PM