Sponsored By
Contributors
Below are readers who have donated to me as a thank you token. If you feel that my post are worth reading, please donate to me at any amount. Thank you.
Link to me
Book i read.
Stats
Wednesday, December 28, 2005
2005 best picture.
I just love photography and how true it is "a picture speaks thounsand words". Ok, i'm not a photographer but as an artist, photos are not a new thing for me. Which is the best picture for 2005?

I'll let you decide which photo is the best. Honestly, i'm having a hard time to pick the best photo for 2005. For me the best picture was from MSNBC.com which featured a great deal of photos.

Photos not only from one part of the world but from all over the globe. Photos about tsunami, Katrina hurricane, sports and so many more. You can watch and hear the photo. No, this is not a ghost story but a video containing all the nice photos. You can watch and hear the comments made.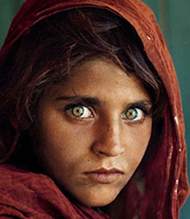 Looking at National Geographic photos, i can feel it's talking to me straight to my face. My fav photo from National Geographic is The Afghan Girl and looking at her eyes gave me a goosebumps.

The focus point of this photo was her green eyes. You can almost feel her pain during the war. I don't know how to describe it to you but maybe if you read her story, you can understand why this photo so remarkable.


How They Found National Geographic's "Afghan Girl"
David Braun
National Geographic News
Updated March 7, 2003

This story was first published a year ago, in March 2002, when the National Geographic Society announced that the "Afghan Girl" had been found.
A National Geographic EXPLORER documentary airing in the United States on Sunday, March 9, 2003, tells the whole story, including an interview with Sharbat Gula. She was one of the world's most famous faces, yet no one knew who she was. Her image appeared on the front of magazines and books, posters, lapel pins, and even rugs, but she didn't know it. Now, after searching for 17 years, National Geographic has once again found the Afghan girl with the haunting green eyes.

The mysterious Afghan girl whose direct gaze has intrigued the West for so long is Sharbat Gula. She lives in a remote region of Afghanistan with her husband and three daughters. via National Geographic


If you have any more photo taken on 2005, drop me a line. But please don't send me some half-naked person doing some crazy thing during his lunch hour. Count down to 2006 and i'm looking at the Afghan Girl photo.
posted by Jamloceng @ 4:29 PM