Sponsored By
Contributors
Below are readers who have donated to me as a thank you token. If you feel that my post are worth reading, please donate to me at any amount. Thank you.
Link to me
Book i read.
Stats
Wednesday, November 30, 2005
Avoid this mistake.
What do you think of this? Creating so many spider food but without a real content. This kind of site owner give us a bad name. This is sooo version 1.0 and making too much spider food will get you ban for life time. This not the way to get on top of search engines result. Yes you can get on the top list for several days and after that your link will be deleted by the major search engines. What? Can't wait for awhile? Shame on you.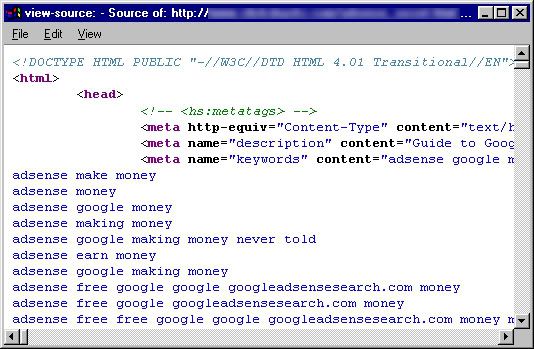 Another reason is to show related ads of Adsense in a fast way. Adsense will read the spider food and assumed the site is about Adsense. Come on, is this what you want to teach our kids? Some of you might say that it is ok to do that but over-doing it is not ok. You will never see your page again in the search engines result and people will avoid you in the future. Loosing visitors means loosing income. Some site owner hide their spider food and blend it with their site ( huh? a deja vu? ). Some even going over the brigde by using META TAG loaded with spider food. Sooo version 1.0 dude. Search engines ( Google in this case ) getting smarter every single day with more complex method of indexing your site.

Why not use the H1,H2,H3 method instead? More search engine friendly and you don't have to stuff million of words into one tight space. Some said that by using H1, H2 and H3 can improve your index but again, search engines keeps changing their method. I nice article about H1, H2, H3 tags is from W3Schools.com. I'm not a SEO guru but a guy ho uses his logic before writing. If you're looking for SEO guru, i have a news for you; THERE'S NO REAL SEO GURU. Ohhh....another smashed dream eh.

Most of the so-called SEO guru are nothing more than a cheater. Before you get angry with me, i'm not saying ALL, but most. As you all know, 70% of service of product are fake and will not do you any good. Yes, some company do help you with SEO but even they can't guarantee you a 100% "4th of July party". You can do your own SEO by keeping an open eyes for changes from the major search engines. Read their policy changes or their report release and you can understand ( not 100% ) how SEO works. For a start, why not read what Google have to say regarding this.

Google 1 | Google 2
posted by Jamloceng @ 3:41 PM