Sponsored By
Contributors
Below are readers who have donated to me as a thank you token. If you feel that my post are worth reading, please donate to me at any amount. Thank you.
Link to me
Book i read.
Stats
Wednesday, October 26, 2005
Plagiarism alerts
I'm so sad with how some people using the easy way to copy my article and edited it. Just now i just filed an official complaint to Blogspot, Adsense, ClickBank, his registrar and webhosting. He just too lazy to write his own article and my God this guy have guts to edit my article and insert his affiliate code! Please do not buy anything from this guy because he is not a honest marketer and bl.ogger. He violating my TOS ( read : Creative Commons )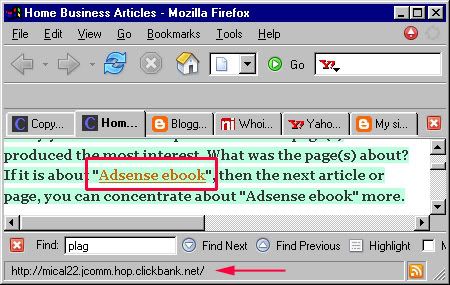 him, please ask for a refund. Only do bussiness from a honest marketer. He don't even put his email link in his bl.og and this is a sign of dishonesty. If you want to get $300 daily from Adsense, only get from an honest seller ( read : me ). To get your own copy of the Adsense secret, click here.

WARNING : USING THE ADSENSE SECRET FROM OTHER SITE OR BLOG MEANING YOU ARE RISKING YOUR PRIVACY, MONEY AND MAYBE WILL LEAD TO IDENTITY THEFT. ONLY USE VALID ADSENSE SECRET'S FROM AN HONEST PUBLISHER.

So how do i detect all the lazy copycats? Backtrace it using CopyScape is one way and it's free to use. To be honest, too many lazy publisher out there making profit from other people's hardworks is something stupid. I'm thinking of taking a legal action according to DMCA. If you have any information about other publishers using my content, please inform me. This illegal profit making must be stop. I'm wondering, how much money he's making from using my article. I just talked to my community legal consultant and he told me that, i can sue this copycat.

I'm not new to the internet community because i've been online for years and i have readers from all walk of life. All of my readers know that i'm a honest person and will not do anything illegal or tricked them into doing something illegal. My reputation is on stake because of this guy attitude. If he's an honest marketer, he will respect other people's hardwork. My bl.og getting about 300 - 500 visits daily and i don't want my readers calling me a liar for something that i'm not aware of.

Again, if you're interested in making $300 daily from Adsense, only get it from my bl.og. Your privacy and identity is not mine to collect and i do respect your privacy. To get an update, please subscribe to my newsletter.
posted by Jamloceng @ 4:03 PM