I'm using

AutoCad

for my daily work. I'm working as senior civil engineer designer at one of the most top firm in Malaysia. I've been using AutoCad for almost 8 years now and it is

easy

to learn. Today i'm going to give out a tip to make your work faster. This tip is only for AutoCad v14.





If before this you solely use the pull-down menu and icons, now it is the time to shift the gear. Using your keyboard will

cut your time

to half. So how can that be? Easy, we have five fingers on each hands and making it easier to press a key on the keyboard. I'm talking about short-keys. Let's say you wanted to "trim", all you have to do is press "TR". But wait, can we make it much shorter? Keep on reading and i'll show you my trick of the century ( i guess LOL ).





First you need to find the

acad.pgp

file. Normally that file sits in your

AutoCad Support folder. Make sure you make a copy of that file before moving to the next step. A corrupt PGP file will damage your whole AutoCad system. Found it already? Great job and let's move on to the next step.



This is the second part of the tip. Remember to backup the PGP file first. Look at the figure below. Notice the codes? You need to edit or add your own code into that file. Make sure there's no duplicate code before editing or adding your code.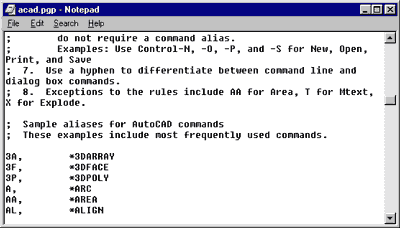 For example you wanted a shorter key for
3DArray
and the short-key is 3A. Look at your keyboard and decide what key on the keyboard is faster for your finger to press. Maybe you can
edit
the 3A and change it into 33. That's it and save the PGP file and re-open your AutoCad. Do remember, editing or changing the code
AFTER
the short-key is not a good idea unless you know in details on how to handle LISP language.
Related reading.
1.
AutoCAD 14 - Manual Fundamental
Software.
1.
AutoCAD Release 14
2.