Sponsored By
Contributors
Below are readers who have donated to me as a thank you token. If you feel that my post are worth reading, please donate to me at any amount. Thank you.
Link to me
Book i read.
Stats
Monday, August 29, 2005
Online millionaire Book
Irfan Khairi is our local boy that made millions from internet bussiness. He just published his own "how-to" book. This is my honest comment and not intended to "flush" his creadibility at any level.

After reading his book titled "Rahsia Jutawan-jutawan Internet Terbongkar" ( Internet Millionaires Reveled ), to be honest, most of the info in his book can be obtained free from the internet. Just Googled the keywords ( you figure it out ), zillions of tips on how to make your own "start-up" online bussiness will popup.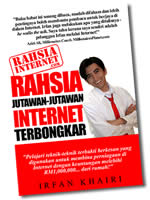 This book is for newbies and should not be read by advance netprenuer. With wide range of infos you can tap in, this book is great to understand the basic of internet bussiness. Starting with on how to pick a hosting right up to setting your merchant account. With simple and easy to understand style, you can simply "copy" his module and walla, your first online bussiness website.

By reading his book, you won't go far tho. You must go to his seminars for the "details". Maybe this is his marketing strategy to make more money. But hey,there's nothing wrong with that but i was hoping his book go into the details more.Again, i must stated that his book for newbies only. To attend his workshop, you must pay $179 ( RM690 ) and hope there's gonna be a hand full of "door-gift" for that amount of fee.

If you really serious about learning how the pro's make money from the internet, the you should try this link. A provent module that helped many people to understand the details to start an online bussiness. The easiest way to start your bizz is by reading the tips in this site. With "on-hand" help, you can't missed the money on the table. Using more modern approach, they will give you a complete DVD's, softwares and books regarding online bizz. Their insane offers only for the seriously insane "headhunters of the web".

Another insane method to get those "money-on-the-table" is by using Google. Yup, you read it right...using Google. I'm talking about Google Adsense. The man that made "insane" income is Joel Comm. He made almost $25,000 per month using Google Adsense. To read more about on how Joel made that much, point your browser here.

Related books



Related Link

Cheap Bussiness Webhosting.

posted by Jamloceng @ 6:28 PM