Sponsored By
Contributors
Below are readers who have donated to me as a thank you token. If you feel that my post are worth reading, please donate to me at any amount. Thank you.
Link to me
Book i read.
Stats
Monday, June 20, 2005
Doodling around
Take a good look at my sketch. Nothing much but right now i'm bored a little bit. Just to clear my mind, picked up a pencil and start doodling.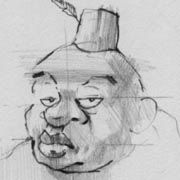 I love using graphite pencil and charcoal. Oil painting a lil bit messy and to get a good art supplier here is hard job.


posted by Jamloceng @ 3:32 PM